Current Projects
Preserving our magnificent seabird populaton is a balancing act. Birders and vacationers are naturally drawn to Maine's enchanting seabird islands. The birds, of course, have their own agenda when they touch down after their long migration for breeding, egg laying and feeding their young. Access to seabird nesting habitat is restricted during this crucial period, or that year's nesting effort may be lost.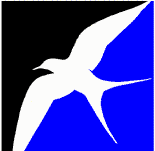 This sign will convey that the posted island is "off limits" to visitors during the nesting season.
Friends of Maine Seabird Islands has acquired the funding for producing and installing signs on protected seabird islands. We installed approximately 150 signs during the 2005-2006 season, with the help of volunteers and staff. The signs measure two feet square and are placed at 100 primary landing sites.
The sign is designed to stand alone as a symbol conveying the message that the posted island should not be landed on during the seabird nesting season. In order to familiarize boaters with the sign image, we distributed printed materials as part of the annual Maine boat registration process, provided information at public boat launching ramps and harbormaster offices, and distributed materials through local marinas and other coastal businesses. We also sent out our message to the media.