*Text taken from the online "Draft Comprehensive Conservation Plan and Environmental Impact Statement," dated April 2004, of the Petit Manan National Wildlife Refuge Complex.
The 11.2-acre Ship Island was acquired in fee simple from The Nature Conservancy in 1994. It is located in the Town of Tremont, Hancock County. The adjacent Trumpet Island is accessible at low tide by an intertidal bar. The majority of the vegetation on Ship Island is dominated by grasses and ericaceous shrubs, including rugosa rose, raspberry, elder, and Angelica. A small stand of black cherry is located on the northern end of the island. The western shore of the islands is comprised of an extensive sandy beach, while the remainder of the island is surrounded with cobble.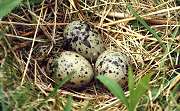 Common tern eggs. Predators have made it difficult for the terns to re-establish a colony on Ship Island.
Historically, Ship Island supported over 300 common tern nests, while an additional 500 pairs nested on Trumpet Island. However, by the 1930's gulls had eliminated all nesting by terns. In 1993, a tern restoration project was initiated on these islands through a cooperative agreement with The Nature Conservancy. Gull control was initiated and continued through 1995. After more than a 50-year absence, terns returned to Ship Island in 1995 with a single nesting pair of common terns. The colony continued to grow and in 1999, 558 pairs of common terns nested. The colony completely abandoned the island during the 2000 nesting season, presumably due to mammalian predators. During the 2001 season, 261 pairs of terns established nests, but abandoned the island after a mink arrived on the island. Terns attempted to nest on the island during the 2002 season, but once again abandoned the island early in the nesting season. All efforts to trap predators have been unsuccessful.
Refuge biological technicians staff Ship Island, conducting biological surveys on the tern colony (food and productivity studies), predator control and banding. Vegetation management to improve and maintain tern nesting habitat is on-going using vegetation mats and mechanical disturbance.
Also of note is the fact that an avian cholera epidemic in the early 1980's significantly reduced the common eider population on Ship Island. The island is closed to public access during the seabird nesting season: April 1 to August 31.
The island has informational signs alerting visitors to this closure.
The island is open to migratory waterfowl hunting under State and Refuge regulations.