Merchandise
Visit our Nature Shop at the Visitor Center
Please visit us at our new and improved location for interesting and useful gift items and mid-coast Maine memorabilia and artwork. We have reusable shopping bags (pictured here) as well as maps of the entire Maine coast. We also sell books, stickers of seabird images, Refuge logo wear, and many of the photographs you can find on our website. All proceeds go directly to support our mission and the development of exhibits for the new center!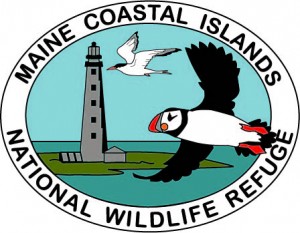 Map Highlights Seabird Nesting Islands on Maine Coast
Friends of Maine's Seabird Islands has published, in partnership with the U.S. Fish and Wildlife Service, a large, full-color map of the seabird nesting islands off the coast of Maine.
This decorative and highly detailed map, 15″ by 40″, shows both surface and undersea topography. It also shows main roads, county boundaries and towns.
Maps can be purchased directly from the Friends of Maine's Seabird Islands at the new visitors center.
Flat maps are $25 plus $5 shipping and handling. Mounted maps are $125, plus $10 shipping and handling. Please send a check to P.O. Box 1231, Rockland, ME 04841. All proceeds support FOMSI.
Maps are also available at:
Down East

Maine Coast Bookstore
158 Main St.
Damariscotta, ME 04543
207-563-3207

Maine Coastal Islands NWR
Water St.
Milbridge, ME 04858
207-546-2124

Blue Hill Books
26 Pleasant St.
Blue Hill, ME 04614
207-374-5632

Midcoast

Archipelago
386 Main St.
Rockland, ME 04841
207-594-9209

Bookstacks
71 Maine Street
Bucksport, ME 04416
207-469-8992

Ducktrap Bay Trading Co.
Main St .
Camden, ME 04843
207-236-6259

Granite Hall Store
9 Back Shore Road
Round Pond, ME 04564
207-529-5864

Hamilton Marine
155 E Main Stn.
Searsport, ME 04974
207- 548-6302

Huston Tuttle
404 Main St.
Rockland, ME 04841
207-594-05441

Midcoast (cont'd)

Maine Coast Bookstore
158 Main St.
Damariscotta, ME 04543
207-563-3207

Maine Sport
162 Bayview St.
Camden, ME 04843
207-230-1284

Owl & Turtle
32 Washington St.
Camden, ME 04843
207-236-4769

Project Puffin
311 Main St.
Rockland, ME 04841
207-596-5566

Sherman 's Books
14 Main St.
Camden, ME 04843
207-236-2223

Sea Star Shop
P.O. Box 238
Port Clyde, ME 04855
207-372-8848

Southern Coast

Kennedy Studios
42 Exchange St.
Portland, ME 04101
207-772-8766

Freeport Wild Bird Supply
541 Rte. #1
Freeport, ME 04032
207-865-6000

Maine Audubon Society
20 Gilsland Farm Rd.
Falmouth, ME 04105
207-781-2330